MX01 48V 1000W 26" FAT TIRE FOLDING E-BIKE
Regular price
$2,299.00
Sale price
$1,509.00
Save

$790.00
/
Tax included.
Shipping
calculated at checkout.
---
In stock, ready to ship

Inventory on the way
Product Specification:
Color Family: Black/Red, Black/Green

Maximum Speed: 40km/h (25mph); speed limitation is optional

Maximum Mileage: 31 miles or 50 km (electric mode); 56 miles or 90 km (assistant mode)

Frame Material: Aluminum Alloy

Motor: 1000W high-speed brushless gear motors

Display: Advanced Colorful LCD Display with Cruise Control

Derailleur: Shimano Gear 7 speeds

Riding Model: Booster riding, Pure electric riding, Pure human riding

Front Fork: Coil Suspension, Hydraulic

Brakes: Hydraulic Disc Brakes

Head Light: LED Headlamp

Fenders: Front and Rear

Tire: 26" x 4.0"

Vehicle Weight: 32 kg /70 lbs

Load Capacity: 180 kg /400 lbs

Battery: 48V 12.8Ah Lithium-ion Cells

Charging Time: About 6 hours

Package Size: 64*118*185 CM
Shengmilo MX01 Snow Electric Bike is not only an excellent professional snow bike but it is also equipped with a powerful motor, Shimano 7 speed shifter system, Durable battery, an adjustable and lockable aluminum suspension fork that converts forward power in climbing or riding on the road, making the entire drivetrain smooth and durable. Whether it's off-road hills, jungle trails or city roads, snow, and beaches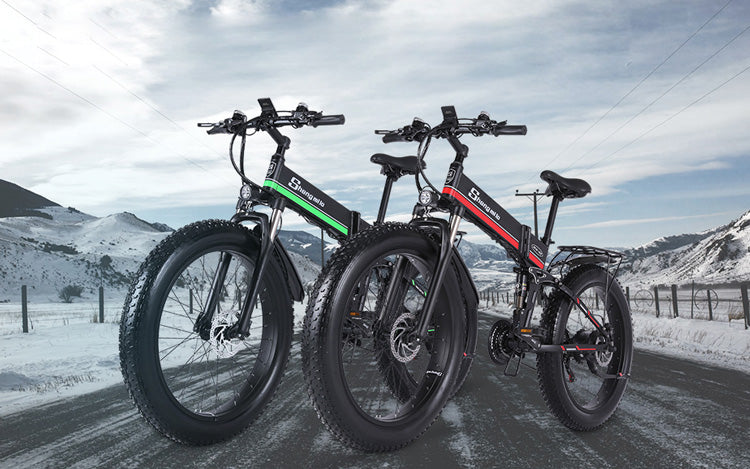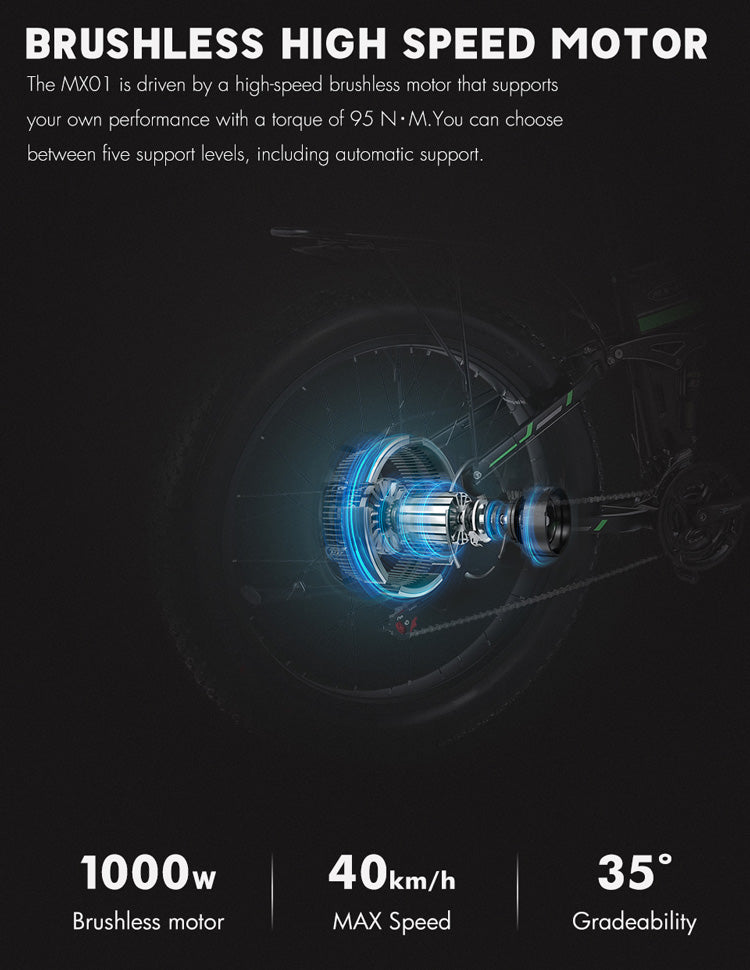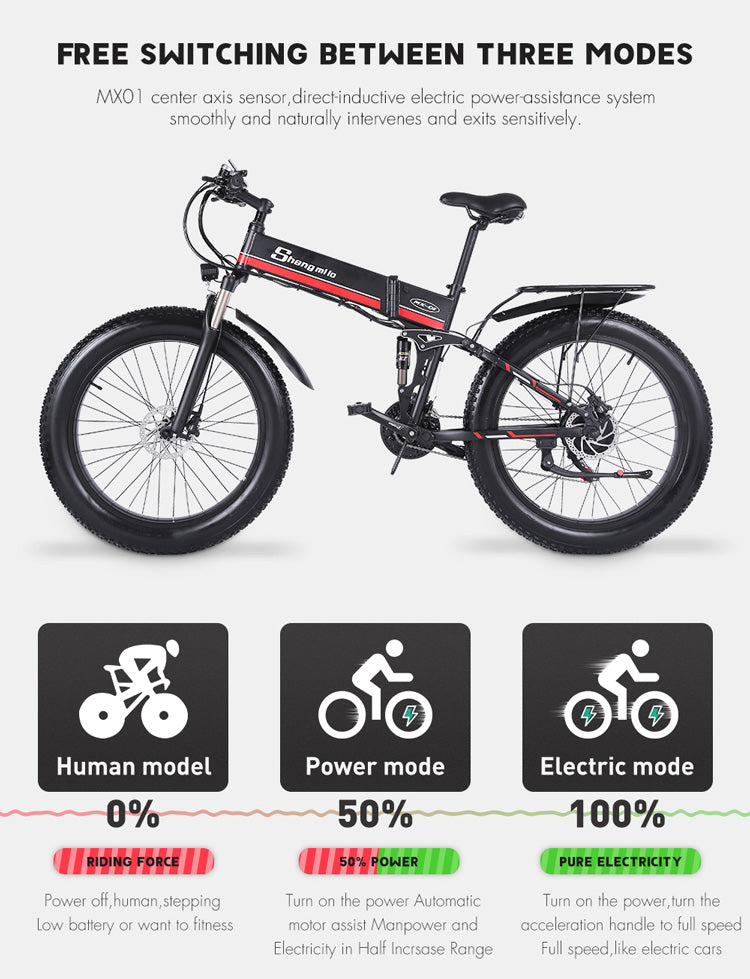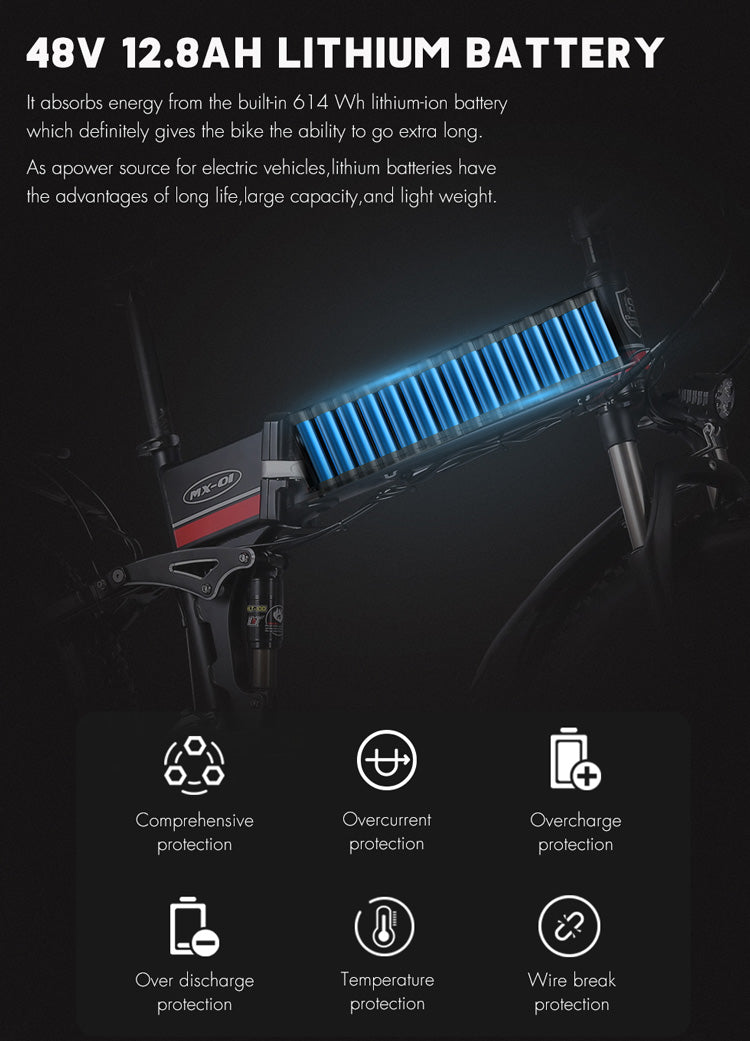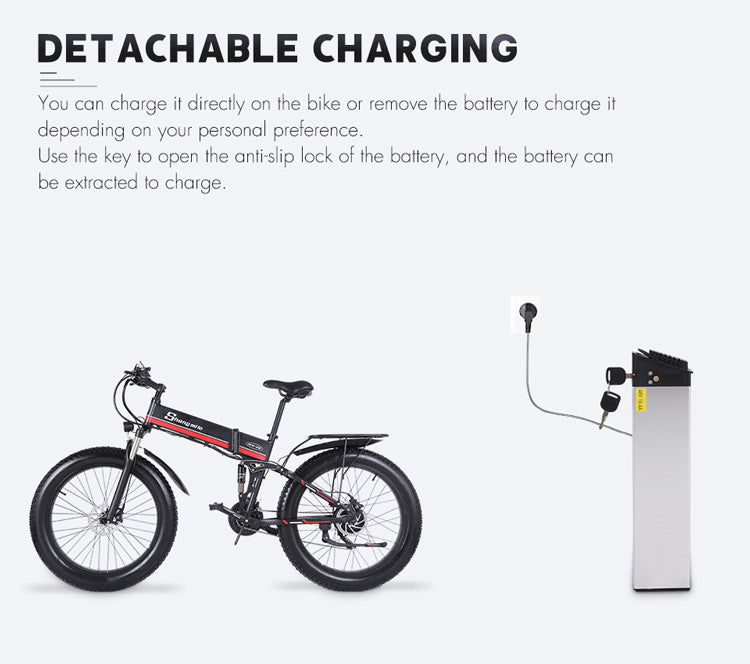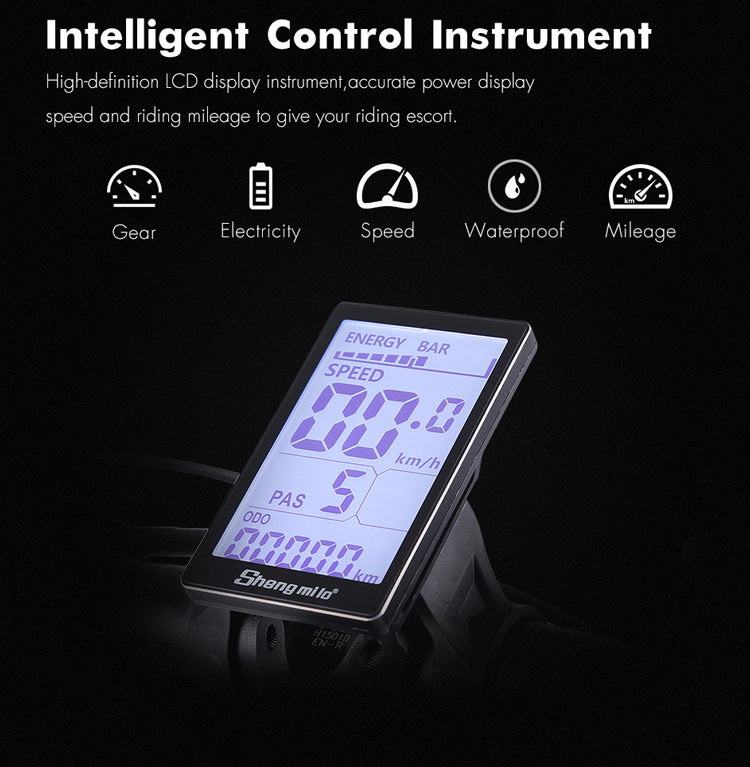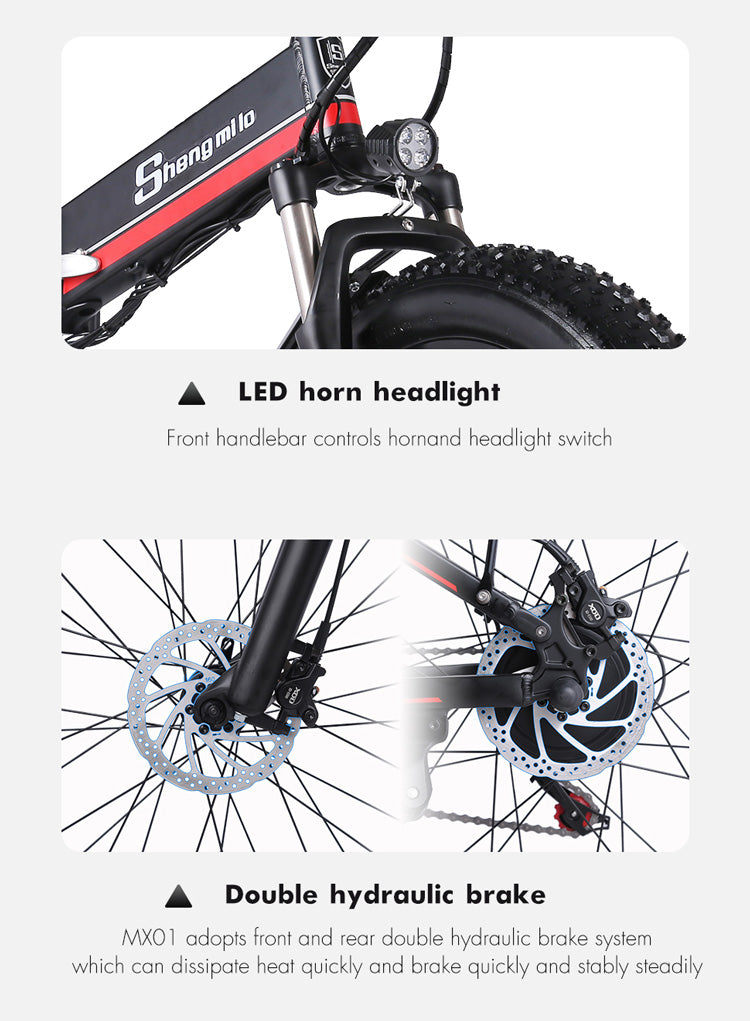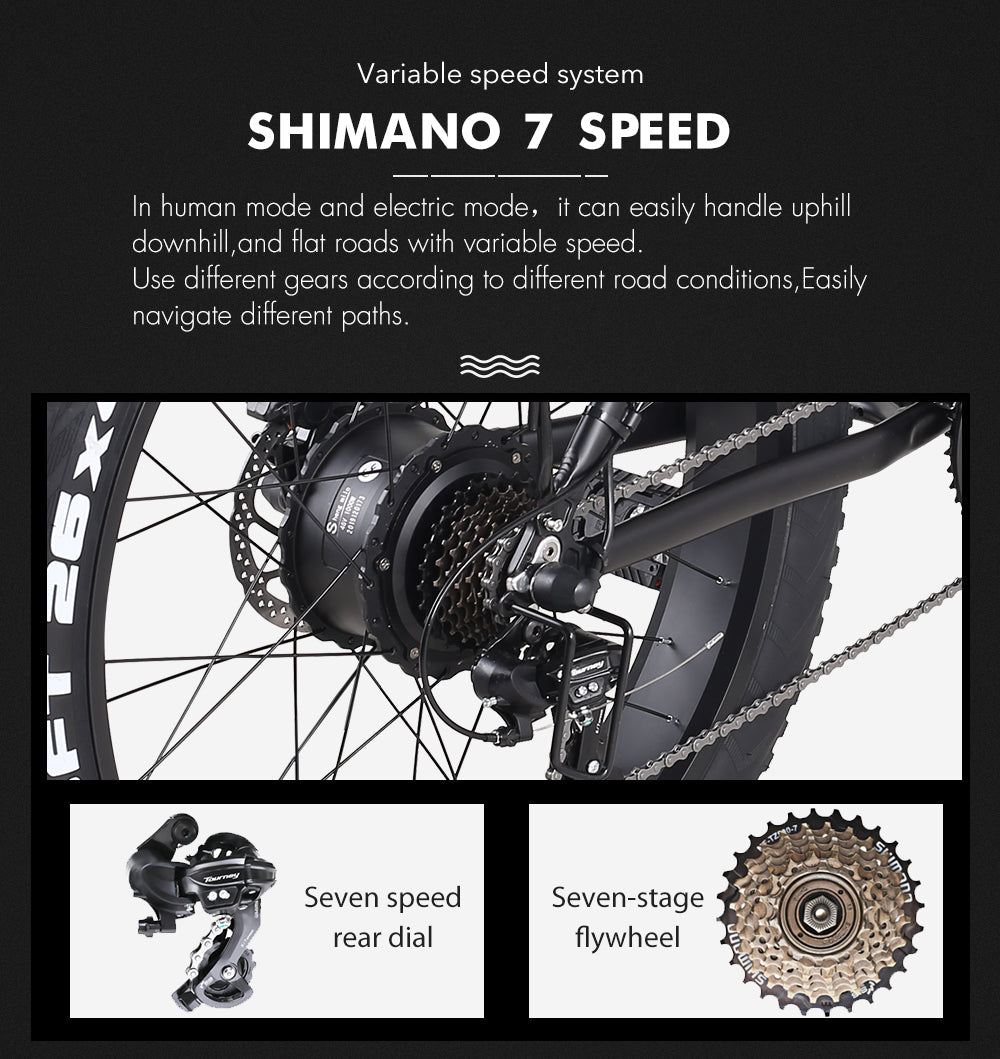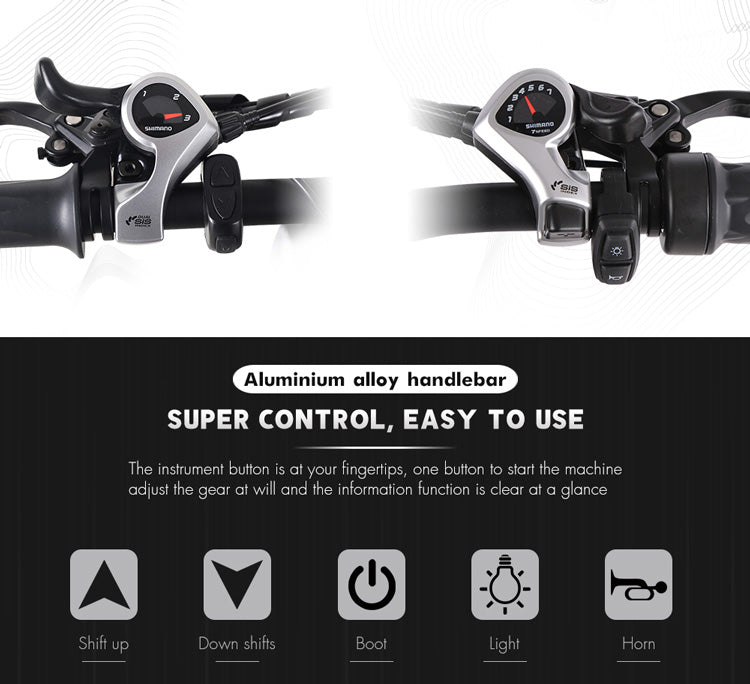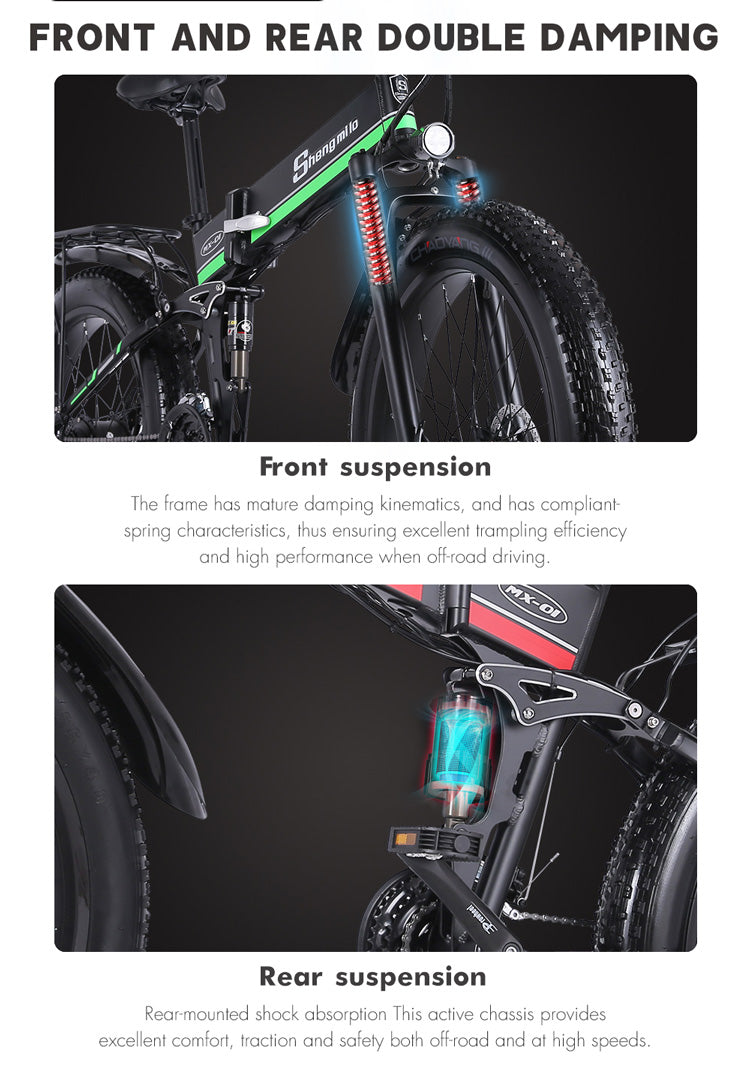 As soon as you place your order, you'll receive an "Order Confirmation" email with details about your order.
After we receive your order, we'll start processing it immediately. We process the majority of our customers' orders within 12 hours. We want you to receive your item(s) as soon as possible!
After your order is processed, it usually takes between 4-8 working days for it to be shipped. You will receive a "Shipment Confirmation" email with tracking info as soon as your order is dispatched to you.
WE WORK WITH
IMPORTANT: you must be present to sign for your order when it arrives. All of our e-bikes are shipped with "Signature Required" to make sure they arrive safely. After you receive your tracking information, you can know exactly when your order is going to arrive so you can make proper arrangements.
How Much Does Shipping Cost?
Shipping is FREE on all of our products . No minimums required.
How Long Does It Take To Ship My Order?
As soon as we receive your order, we'll start processing it immediately. Your order will be dispatched to you in 2-10 working days.
How Long Would It Take To Receive My Order?
After your order is shipped, it will take between 7-50 working days for you to receive your items depending on your location.
How Do I Track My Shipment?
As soon as your order is shipped, we'll send you an email containing your tracking number. You can use it to track exactly where your order is.
Which Courier Will Deliver My Order?
We work with different shipping providers to ensure the fastest shipping times for you. Some of them are: UPS, FedEx, DHL, USPS as well as as other premium couriers.
Do You Ship Internationally?
Yes,we have warehouses in China, Europe, North America
Should I Be Present To Receive My Order?
All of our e-bikes are shipped with "Signature Required". This is to ensure your e-bike gets to you safely. You can make arrangements accordingly based on the date on your expected delivery tracking info.
Shipping Time:
The shipping time in different areas as below:
Country
Delivery time
Tax
Warehouse

EU Country

7-50 days
no tax
China or EU warehouse

USA

7-50 days

no tax

China or US warehouse

Canada

7-40 days

no tax

Ship from 

 China or CA warehouse

Aisa Region(Japan, South korea etc)

5

-

10 

days

no taxes

Ship from 

 China

UK

7-40days

no taxes

Ship from  China or UK warehouse

Newzeland
7-40 days
no taxes

Ship from  China

Australia 
5-50 days
no Taxes

China or AU warehouse(no tax)
*Due to the impact of the epidemic, there may be delays in shipping.
The specific warranty covering your EBIKESZ bicycle is governed by the law of country in which it was purchased, and applies only to bicycles purchased EBIKESZ

After reviewing our warranty policy, if you believe you have a warranty claim,pls contact: support@ebikesz.com
whatsapp:+852 92969209
Ebikesz Limited Warranty And Policy On REPLACEMENT PROCEDURES & RESPONSIBILITIES
1. 14-Days Money Back: For 14 days after the date of purchase, return your Undamaged / Unused HeyBike product and receive a refund.
2. 2-year Warranty: We offer 2-year warranty for the bike and battery.



What if my bike was stolen?



We are sorry that the stolen bike is not covered by the warranty. We recommend investing in a quality lock to protect your bike when you're not riding.


EBikesz 2-Year Warranty



All Heybike bikes are covered under our manufacturer's 2-year all-inclusive warranty for the original owner against all manufacturing defects. (All free Accessories are not covered by warranty service)

The 2-year warranty would be started since the intial owner has received it.
Replacement Procedure:

EBIKESZ will replace any and all component that is deemed to be defective or damaged (including damage incurred during shipment) without user error.



1: Claims


All claims to this warranty must be made through ebikesz. and submitted to support@ebikesz.com. Proof of purchase and photos or videos of the damaged product are required with any warranty request. Before making a warranty claim, we suggest that you contact us at support@ebikesz.com as there may be a simple fix for your problem. Valid warranty claims will be processed through Heybike within 1 years of initial purchase.

ebikesz will not replace any part without first seeing photos or video of the damaged product. Customer needs to provide us with evidence by email.



2: Shipping Damage Claims


In rare instances, the item received may be damaged during transportation. If shipping damage occurs, please contact support@ebikesz.com and provide us with photo or video proof.

All free accessories will not participate in the replacement or compensation if they cause scratches during transportation.

NOTICE: we will not accept Shipping Damage Claims later than 7 days from receipt of products.



Frame



Ebikesz Ebike frames are covered by a replacement warranty for 2 year.

This warranty includes a replacement frame only. Labor charges to changeover parts to replacement frame are not included. Changeover labor must be performed by an authorized Heybike.

EBIKESZ reserves the right to use scratch and dent stock when replacing a frame under this warranty. Frame styles and/or colors not in stock may be replaced with a compatible style and/or color at the discretion of Heybike.

Frame issues that are excluded from this warranty include but are not limited to:

Corrosion
Paint fade, scratches, impact marks
Impact damage
Non reversible modification (drilling/welding)
Chain guard mount to the frame if applicable



Batteries



EBIKESZ batteries are covered by a 2 year prorated warranty.

During 1 year of service – A defective battery will be repaired or replaced at no cost to the customer. The warranty period for a repaired or replaced battery remains unchanged based on original purchase date.
After the first 1 years of service – A prorated credit, based on months of service, will be applied toward the purchase of a new battery. Batteries purchased at pro-rated cost will have a new 1 year warranty based on the pro-rated purchase date.

No cash reimbursement will be made.

Batteries can be assessed and found defective only by directly by ebikesz.

This Limited Warranty does not cover:

1. Defects or damage resulting from accident, abuse, misuse, abnormal use (including but not limited to stunt riding, racing or other similar activities not consistent with the intended use of the Products), improper storage, abnormal exposure to liquid, chemicals, moisture, abrasives, sand or dirt, neglect, or abnormal physical, electrical or electromechanical stress;
2. Scratches, dents and cosmetic damage, unless caused by ebikesz;
3. Product that has the serial number or the bar code removed, defaced, damaged, altered or made illegible;
4. Ordinary wear and tear;
5. Defects or damage to the Products caused by the use of accessories, products, or ancillary/peripheral equipment not furnished or approved by Heybike with the Products;
6. Defects or damage caused by assembly, testing, operation, maintenance, installation, service, repair, or adjustment in a manner that varies from Assembly Instructions & Owners Manual;
7. Defects or damage resulting from external causes such as collision, fire, flooding, windstorm, lightning, earthquake, exposure to weather conditions, theft, blown fuse or improper use of any electrical source;
8.1 In addition, with respect to the Battery, this Limited Warranty does not cover defects or damage;
8.2 Caused by charging by a battery charger not intended or appropriate for use with the Battery or the improper use of a battery charger;
8.3 Where any of the seals on the Battery are broken or show evidence of tampering;
8.4 Where the Battery has been used in equipment other than the Bike for which it is specified;
8.5 The corresponding issues on battery and e-bike will not be covered by the warranty after using a battery that is not specific to your e-bike model. We do not recommend you to use a battery of other brands on Heybike e-bike, although the output voltage of the other's battery may also be 48V, the battery protection system may not be the same, there may be incompatible situations leading to damage to our motors and dispalys.



Parts & Components



Original samebike parts & components are covered by a 2 year limited warranty.(When all the spare parts for warranty are sent to the customer, the customer needs to bear the freight.)
This Limited Warranty does not cover:

1.Ordinary wear and tear not the result of defects in workmanship or materials. Wear and tear can be assessed by samebike. Parts not typically covered include but are not limited to:

1.1 Brake Pads
1.2 Rotors
1.3 Spokes
1.4 Tires/Tubes
1.5 Chains
1.6 Chain Rings
1.7 Cassettes
1.8 Crankset
1.9 Parts compromised due to corrosion due to the elements (moisture, heat, etc).
1.10 Damage or deterioration of the surface finish, appearance, or aesthetics of the product.
1.11 Frame, forks, handlebar, seat post, saddle, brakes, lights, crankset, pedals, rims, wheel hub, freewheel, cassette, derailleur, shifter, motor, throttle, controller, wiring harness, LCD display, kickstand, reflectors, and hardware,Warranty within one week after receiving the goods. Parts damaged during use after seven days need to be charged.

2. Labor charges for part replacement or changeover.
3. Defects or damage resulting from accident, abuse, misuse, abnormal use (including but not limited to stunt riding, racing or other similar activities not consistent with the intended use of the Products), improper storage, abnormal exposure to liquid, chemicals, moisture, abrasives, sand or dirt, neglect, or abnormal physical, electrical or electromechanical stress.
4. Scratches, dents and cosmetic damage not caused by ebikesz.
5. Product that has the serial number or the bar code removed, defaced, damaged, altered or made illegible.
6. Defects or damage to the Products caused by the use of accessories, products, or ancillary/peripheral equipment not furnished or approved by samebike with the Products.
7. Defects or damage caused by improper assembly, testing, operation, maintenance, installation, service, repair, or adjustment in a manner that varies from Assembly Instructions & Owners Manual.
8. Defects or damage resulting from external causes, such as collision, fire, flooding, windstorm, lightning, earthquake, exposure to weather conditions, theft, blown fuse or improper use of any electrical source.



How to make a warranty claim


If you believe your EBIKESZ has a warranty issue, please contact our customer support team for instructions on how to proceed: support@ebikesz.com, whatsapp:+852 92969209